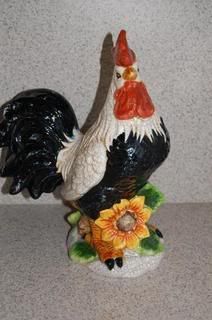 I'm not sure if I have shared with you my fetish... uh.. uh.. I mean
passion
for chickens and roosters? I can't quite explain it, but they just call out to me? I remember the YEARS of lying in the old rod-iron beds at my grandmother's house and listening through the open windows and hearing the sounds of life, just outside in her yard. She had a yard full of these little precious creatures. For me, the noise of the busy chickens takes me back to a time in my life when all was right and good - when I had no responsibility and life was easy!
Maybe I'm searching for that feeling of peace... or maybe I just like chickens? I really don't know? Basically, I'm just glad that roosters and chickens have found their way back to being popular and the latest fashion craze in kitchens!
I stumbled upon these goodies at my local Hancock's Store and it was meant to be.... why else would they have been 50% off? I mean - seriously - they called out to me!!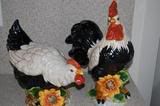 And
of course
I had to have the pair... DUH???
It was meant to be, I tell ya'.... FATE!